Which Reindeer is Santa's Favourite?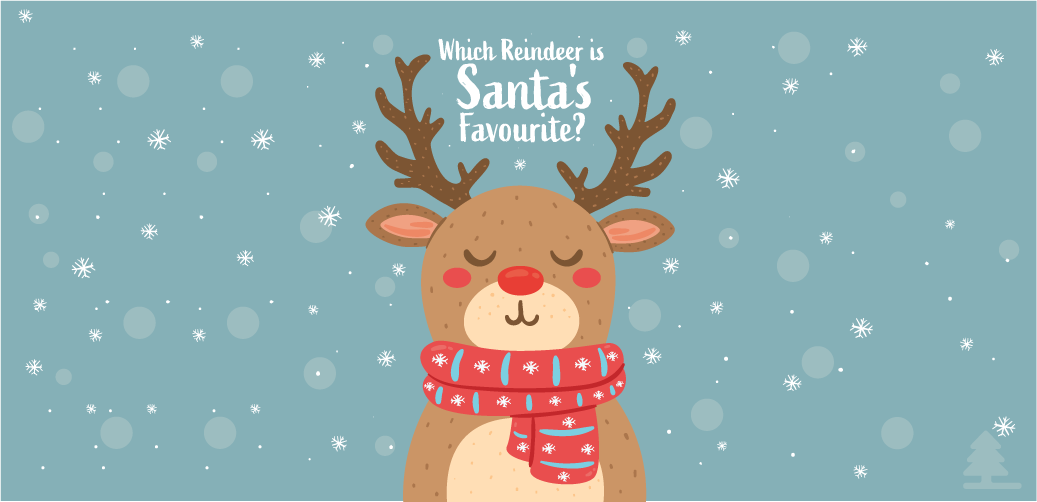 Christmas is around the corner, and at Santa'Ville, we are all about spreading that Santa cheer. Every man and their little puppy knows all about Santa Claus. However, how much do you know about Santa's team of reindeer?
They are Santa's favorite mode of transport and are probably somewhere busy at work preparing gifts for children across the world. It is undoubtedly going to be a long global trek for them as they deliver colorful presents to kids. Would you like to get to know the gang?
That's precisely what we are about to solve.
We will single out each reindeer individually as we figure out which one is Santa's favorite. Let's know more about these little Christmas creatures of burden, shall we?
Fun Fact: Santa's Reindeers' Gender
Many think of Santa's reindeer as male, but biology points us in a different direction. Male reindeer shed their antlers in the first days of December. However, Santa's reindeer still have their antlers by December 25th. This can only mean one thing: That they are female (yay!). Girl power to the word, then!
 
Rudolph
Introducing the most famous reindeer, Rudolph! The "Red Nosed" reindeer, who is probably everyone's favorite. We all know about how Rudolph led Santa's sleigh on that cloudy night. She joined the team as the ninth caribou, but you will be surprised to know the gang didn't always welcome her. She was initially the shy type, but once she took charge on that fateful cloudy night, she evolved into a natural leader.
What is she best at? She brings people together and loves offering her help to those who need it. She also likes traveling, works hard, and will be delivering Santa's gifts at your doorstep!

Donner
Poor Donner!
She was initially called Dunder, which is a rather unfortunate nickname. Well, it could also mean thunder in Dutch, but no one is quite sure what they should call Donner. She is like that kid in kindergarten who never quite recovered from having a nasty nickname.
That's pretty unfortunate because she is quite a skilled reindeer. She is a singer who loves performing for her friends. Everyone is comfortable around Donner as she is one of the friendliest caribous.  Her best trait? She gets people right in the mood for festivities, just like yours truly - Santa Ville!
 Dasher
Dasher is renowned for her speed, which certainly comes in handy as she travels the world's length in one night, delivering gifts to all kids. Some think she is a bit cocky, but who wouldn't be if they were the fastest of the gang? Let's all cut her some slack!
She loves nothing than being in the company of her reindeer friends and can be seen training for the big day (December 25th). She is happy, social, and cares about the welfare of her friends. She takes the position behind Rudolph as they lead the pack together.
Dancer
As her name suggests, Dancer is the groovy one. She is that friend whose absence means the party is never the same. Dancer is the one who encourages other reindeer to enjoy the moment even if they are not as fast as Dasher. Better to have a cheerful mate among grumpy friends, especially when you have a long trek around the world, don't you think?
The rest of the crew think of her as a wonderful pal because of her big heart and her ability to spread that holiday cheer. Even one Mrs. Claus is a victim of Dancer's infectious charm!
Vixen
She is the resident entertainer in the group. She likes entertaining her friends, and even Mr. and Mrs. Clause can't get enough of her shows! She is confident and charismatic in equal measure and, subsequently, is always the center of attention. She is a quick learner and likes learning new things and having fun while she's at it. 
As the older member of the group, she likes listening and offering advice to her younger peers. She knows better than to gloat, but she no doubt loves displaying her multiple talents. The group would certainly be gloomy without her!
Comet
Well, there is a reason everyone considers Comet the 'mom' in the group. She is a caring reindeer and is always thinking about the group's welfare, never putting herself first. Needless to say, children adore her. She also has a joke or two inside of her.
Her laid back nature has earned her plenty of admirers. She treats her friends as family and will do anything within her means to ensure everyone is enjoying themselves. She is a natural team player, which is a very useful trait. After all, there is a load of presents to deliver!
Blitzen
Blitzen is another crew member who used to have a rather unusual nickname (Blixem: lightning in Dutch). Perhaps true to her alias, she started pushing herself and testing her limits earlier than any of Santa's other reindeer.  She doesn't stop with herself, though, as she also pushes the rest of the team to realize their potential.
She loves an adventure and always has something new to try and brag to her friends. Blitzen is energetic and always finishes what she starts. This certainly comes in handy in the present-delivery business!
Cupid
Her name says it all; Cupid is all about spreading the love, which is the reindeer crew's primary objective. She loves the holiday spirit, cooking, and spreading decorations. Do you want to know about her favorite holiday? Christmas!
She likes hanging out with her friends, telling stories, and partying deep into the night. Everyone is comfortable around her, and she is certainly the most social of the reindeer gang. You can tell she is the life of the group at the end of their gift-delivering gig!
And the verdict is out…



As for Santa Claus' favorite reindeer, Rudolph takes the crown, hands down. She is quite clearly the captain of the ship, and the crew would be dysfunctional without her leadership. There you have it, folks! Santa relies on the red-nosed reindeer to lead his gang right at your doorstep, delivering the sweetest gifts to kids around the world!
Now that you are here, don't forget to buy personalized Christmas goodies from Santa Ville, the ultimate online Christmas shop!