Do You Have What It Takes to Be an Elf?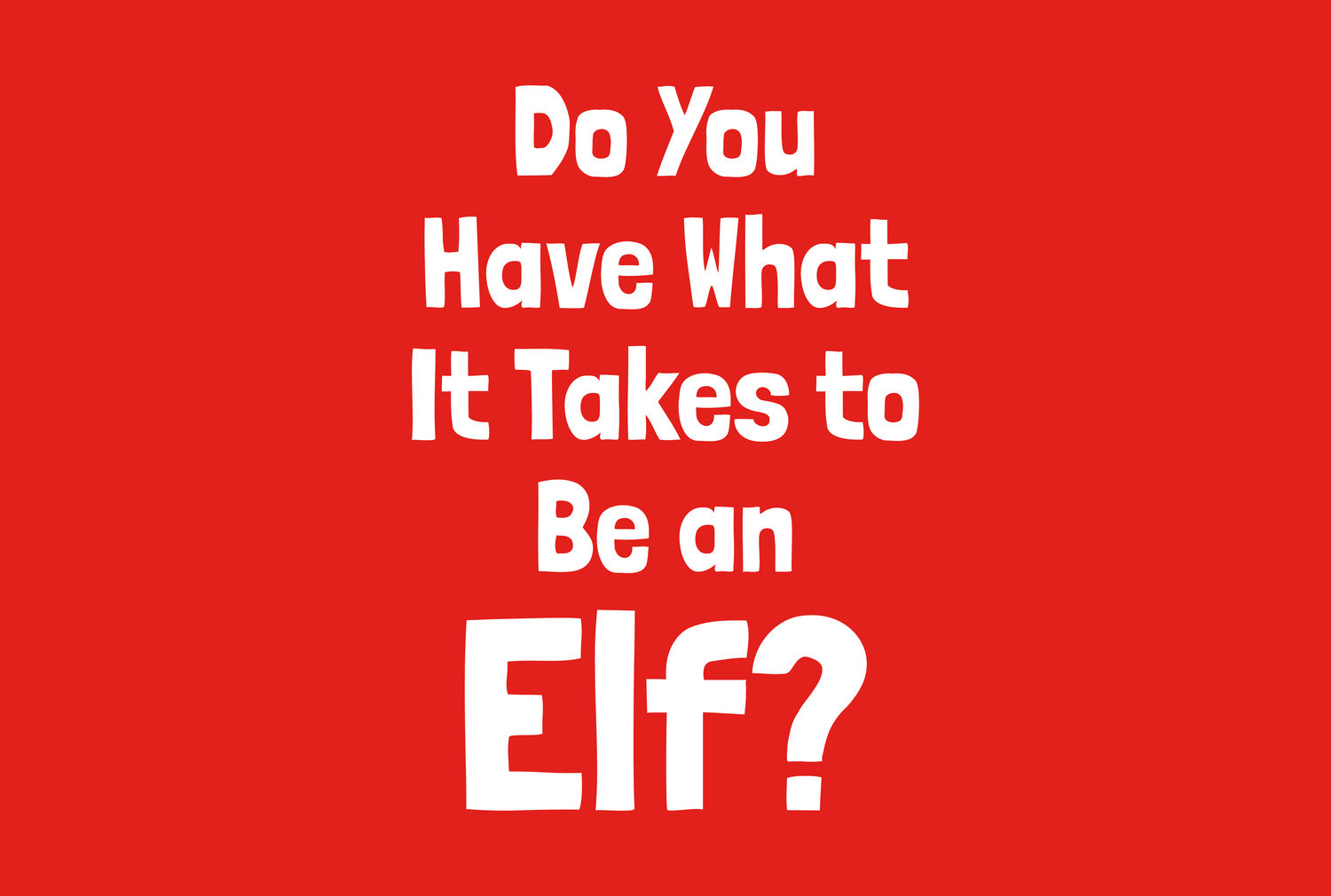 Ho, ho, ho!
Christmas is right around the corner here at Santa'Ville, and the elves are busier than ever. They are working day and night in Santa's workshop. Building toys, feeding and exercising the reindeer, helping read the naughty and nice list…it's all part of an elf's job description.
Yes sir. The days leading up to Christmas eve are busy indeed!
No wonder Santa is looking for help.
The other day when he stopped by Santa'Ville to pick up presents, jolly old Kris Kringle himself asked us if we knew any humans that could volunteer a few hours to assist the elves. Of course, we said yes!
Think you've got what it takes? 
Here are 5 qualities you need to be a good elf.
Must love hot cocoa and candy canes
Everyone knows that an elf's diet consists mostly of sugar. At Santa's workshop in the North Pole, elf employees are entitled to two 15-minute snack breaks. During this time, you will be served complimentary hot chocolate to drink and candy canes to crunch on. On Fridays, marshmallows are included.
Got a sweet tooth? You will fit right in with the elves!
Needs to sing while working
Next, all humans wanting to "elf" must also know how to sing. Christmas carols are preferred. Building toys all day is tiring. So, to keep their spirits up, the elves generally belt out a few choruses of Mariah Carey's "All I Want For Christmas Is You" as well as Michael Bublé's favorite "It's Beginning To Look A Lot Like Christmas" every hour or so.
A fantastic elf will join in the fun.
Not afraid of reindeer
Elves are assigned different duties. Some make the toys. Others pack Santa's bag. Mechanical engineer elves keep the sleigh in tiptop shape. Chances are, as an entry level elf you will be tasked with taking care of the reindeer.
This is big job!
Santa will expect you to cut carrots, haul hay, take the reindeer out for their morning flight practice, and give the magical creatures lots of love, cuddles, and attention. Hopefully you aren't afraid of reindeer, because you will be spending lots of time with these gigantic, enchanted animals.   
Okay with living in a gingerbread house
Fourth, to be a great elf you will need to temporarily live in a gingerbread house (and not eat it while you're inside!) There are not many traditional houses in the North Pole. Most elves live in candy homes. Everything else is the same…except the walls are made of gingerbread, the roof is gumdrops, and the windows are peppermint glass.
Think you can resist nibbling on delicious décor? Then sign up to be an elf!
Enjoys building toys
Lastly, this one is a no-brainer. Elves love making children happy. That's why they work so hard, after all. If you are good with your hands, enjoy putting things together and taking them apart, and can guess which toys are going to be most popular, then Santa is very interested in your application.
That's it!
The top 5 qualities needed to be an awesome elf.
Be sure to visit a Santa'Ville location before Christmas to see all the great work our elves are getting up to.