Gingerbread House Tradition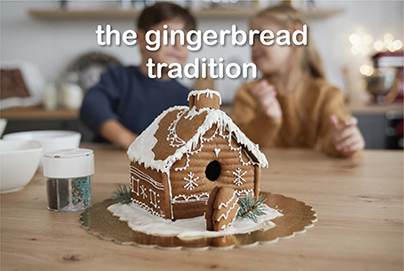 At Santa'Ville, we believe that the best Christmas traditions are those that bring the whole family together. Among the activities that are fun for the whole family, building (and eating!) a gingerbread house stands out as a tradition that always creates special memories for young and old alike. Kids love watching delicious winter scenes come to life as they help build and decorate these edible creations, while grownups can take pride in baking the yummiest gingerbread and showing off their most creative designs.
A gingerbread house is the perfect centerpiece for a decorative holiday display. Placing personalized ornaments around a gingerbread house will create an especially festive scene. A gorgeous gingerbread house captures the attention of everyone in the room, drawing them in to have a closer look at the Christmas decorations. Every personalized ornament has a story to tell, inviting family and friends to share stories about special memories.
Kick off the holiday season by bringing the whole family together to build a gingerbread house. Below is a brief overview of the history behind the tradition, as well as a link to step-by-step instructions.
The tradition of building a gingerbread house has a rich history. According to The Oxford Companion to Sugar and Sweets (2015), gingerbread was first made in Europe by medieval monks and nuns. Early gingerbread usually consisted of rye flour, honey, and an aromatic mixture of spices. The German city of Nuremberg was renowned for its gingerbread in the Middle Ages. In Nuremberg, skilled artisans molded gingerbread into intricate shapes, some as tall as three feet!
While only the rich could afford gingerbread in the medieval period, by the 17th century the increasing availability of sugar and spices allowed ordinary Europeans to enjoy gingerbread as a treat on special occasions, such as Christmas. Fancy gingerbread cookies decorated with icing and candies came to be used as Christmas decorations, a practice that continues to this day.
 Gingerbread houses were first popularized in Germany in the early 19th century. The tradition soon spread throughout Europe, and it eventually traveled across the globe. Today, contests are held for talented builders to show off their most elaborate gingerbread creations. Every year, the Norwegian city of Bergen displays an entire gingerbread "town" consisting of over 2,000 miniature buildings made by local children.
 You can make your own gingerbread house by following this step-by-step guide by Elise Bauer at Simply Recipes: https://www.simplyrecipes.com/recipes/how_to_make_a_gingerbread_house/
 This recipe will make just enough gingerbread to construct a house according to the dimensions provided by the template. Doubling the recipe will ensure there's plenty leftover for extra creations, such as trees and gingerbread men, to place around the house.
 Personalized ornaments from Santa'Ville make perfect additions to a festive gingerbread scene. Placing personalized ornaments bearing the names of family members around a gingerbread house will let kids imagine that the whole family has been transported to a winter wonderland.
 This Christmas, start a new family tradition by building a gingerbread house together. The activity will create special memories for everyone, and have delicious results!
 Source: The Oxford Companion to Sugar and Sweets. Edited by Darra Goldstein (New York: Oxford University Press, 2015)